When we hear the word "baking", the first thing that comes to our minds is cakes and in today's time, a cake is central to the menu of any celebration. No birthday is complete without enjoying a scrumptious Birthday cake with our loved ones while watching their faces light up with a smile as they enjoy the delicious sweet treat. Here, at Bakeneto bakery we promise to be the reason behind those smiles as we serve you the best quality cakes made with high-grade ingredients and a dash of love. So, check out our specialties and best-selling cakes, and be ready to dig in!
Rich fruit cake
Rich fruit cake is something that all of us love to savor, especially during the holiday season. It is packed with walnuts, dates, raisins, and glazed cherries. The result is a dense cake that looks like a beautiful collage when sliced, with fruits and nuts in every bite. The cake is so tasty, rich, and moist that you will not be able to put it down after a bite. The best part- you can avoid going on a guilt trip after consuming one of these since they have the least amount of sugary calories as compared to other cakes.
Black Forest Cake
Black Forest cake or Black Forest gateau consists of multiple layers of chocolate sponge cake sandwiched with sweet whipped cream and cherries. It is decorated with additional cream, maraschino cherries, and chocolate shavings. One of the more traditional cakes, the Black Forest cake originated in Germany but is loved by people all over the world. The cake melts in your mouth forming an amalgamation of flavors which gives it a rich taste and texture.
Pinata Cake
Want something trendy and unique?
Nothing better than a Pinata Cake to surprise your guests. A hard chocolate exterior covers these wholesome cakes, which are packed with interesting layers inside. The external chocolate covering of the cake can be shaped in a number of visually attractive ways, but you have to smash through it to get to the real cake. A small hammer accompanies the Pinata cake to do the task for you. The pinatas can be packed either with a real cake or goodies of your choice such as macarons, chocolates and cupcakes inside, which come as a sweet surprise!
Cartoon Cake
Wish your kids in the most lovable style by ordering a wonderful cartoon cake online from Bakeneto. The plethora of cartoon cakes available at our bakery allows you to give your child their best birthday surprise by bringing home their favorite cartoon characters and letting them be a part of your kid's special day. The flavor, design, and decoration can be chosen by you and we will be more than happy to customize it according to your specifications.
Customized Cakes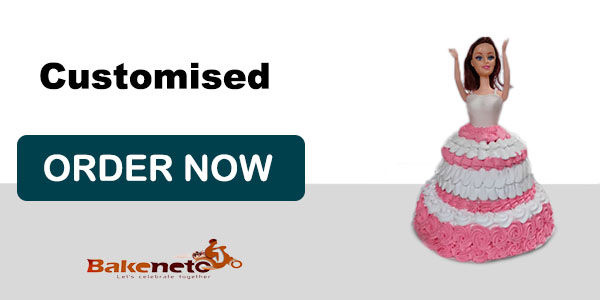 Baking is an art, it requires immense creativity and we welcome it from both sides, ours as well as yours. A custom cake is any type of cake that goes above and beyond the simplicity of a regular cake. This can include handmade fondant pieces like sculptures, flowers, ornaments, specific designs, or care to details that are a little bit extra than a conventional style birthday cake. Nothing gives us more pleasure than bringing your imaginations and dream cakes to life for your special day and being a part of your happiness. Try new some Barbie doll Cakes.
White Forest Cake
A White forest cake overloaded with white chocolate and decorated with a dash of cherries on top can bring a smile to anyone's face. It is a combination of white chocolate with vanilla cake soaked in cherry syrup and frosted with fresh whipped cream and covered with white chocolate shavings! A little different from the traditional Black Forest Cake but equally delicious in taste, get this as a birthday cake and make lifelong memories with your family and friends.
Pineapple Cake
The quintessential Pineapple cake is an ideal choice for the ones who prefer a light, delicate dessert. It is moist, deliciously dense, with a fluffy vanilla buttercream frosting, and is beautifully finished with a thin blanket of finely shredded coconut for a nice final touch. A super spongy cake with a generous abundance of pineapple flavor, this is a cake that's sure to please a crowd. Order this mouth-melting sweet treat from our online bakery now!
Red Velvet Cake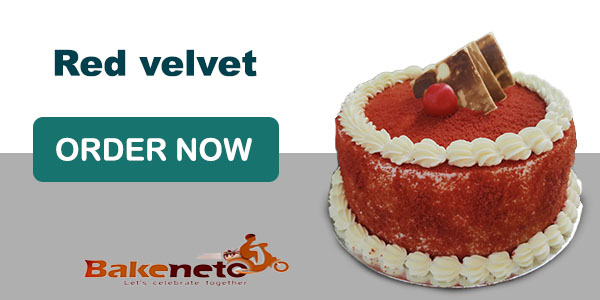 One of the most striking cakes is the Red velvet with its bright red color offset by a white cream cheese frosting. It is said to have originated in the 1800s during Queen Victoria's reign and was extremely popular among the royalty as a luxury dessert. Rightly so, with its soft, moist velvety texture, tender crumb and subtle chocolate flavor the cake still continues to be a favorite for birthdays, weddings and other grand celebrations.
Eggless Cake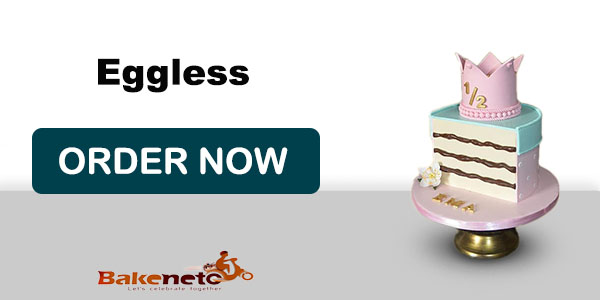 Most cakes depend upon eggs to create that fluffy, cloud-like texture but the good news is that we can replicate the same spongy texture without the use of eggs for you. Eggs can be replaced with a number of ingredients and we use the best to give you the exact moist, smooth and soft texture. Eggless cakes are a treat to the taste buds as much as the ones with egg.