Send Sweet Token of Love, Jar Cakes.
Cakes are a way to connect to friends and family. Whether you want to celebrate a promotion or birthday party, cakes do not disappoint you. With innovative ideas always around the corner, bakeries are all the time ready to introduce cakes and pastries to the clients with a twist. Jar cakes offer a creative way to indulge in sweet delights. There are certain benefits of Jar-cakes over the regular ones. They can be stored for a longer time and can last for several months. Here are some Jar-cakes that are often sought –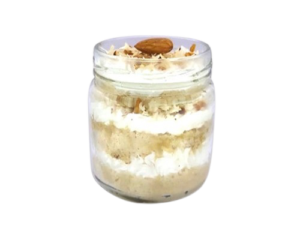 Almond honey Jar Cake :
This luscious jar cake uses crushed almonds and is enveloped with light cream and tasty honey.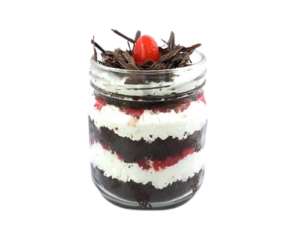 Black Forest Jar Cake :
For all diet conscious people out there, Black forest Jar Cake is a tasty solution.

Strawberry-Kiwi Jar Cake :  
Enjoy the scrumptious Strawberry Jar cake. It is packed with delicious white cream, strawberry and Kiwi.

Blueberry Delight Jar Cake:
This  vanilla flavored cake uses the icing of cream and uses blueberries along with white sponge.
Pineapple Jar Cake : 
Jar loaded with fresh chopped pineapple and fresh sponge offers a subtle solution to the craving.

Oreo Delight Jar Cake :
Enjoy Oreo in a cake. Topped with icing, Oreo Delight Jar Cake is popular amongst all Oreo lovers.

Butterscotch Jar Cake :
For vegans out there, this Jar cake is filled with butterscotch and caramelized sugar.

Choco Chip Jar Cake :
A dreamed of bake, combination of the fresh chocolate sponge and layered with chocolate truffle used with some dark chocolate dots, crunch.
With time, cakes have evolved in terms of texture, flavor and looks. Your loved would love and can not resist this small pack of sweet pack. Give a perfect ending to your dinner by inculcating online Jar-Cakes by Bakeneto in your meals. The method of preparing cakes in a jar transforms it into an adorable treat that can also be conveniently carried along. It is safer to carry cakes in a Jar to avoid any breakage due to travel. You can eat it at any time, while working or while relaxing. Since these cakes come in transparent jars, they appeal to the eye and are tempting. These small cakes can further be modified with laces and ribbons and be given as gifts.
These cakes accumulate moisture while stored and taste better after a couple of days. Buy Jar cakes by Bakeneto and explore other options.
Don't forget to follow us on Social Media on below links:
Facebook
Instagram
Twitter
Read More latest bakery related posts and recipes follow Bakeneto Blogs