Celebration, what do you feel when you hear this word? Today, I shall try and share some point which are very vistal for us all and can change the way we look "Celebrations". You no need to plan big parties or gather 100s of people to celebrate all the time. Here, I'm referring celebration is something which gives us happiness, joy and see people you actually love around you. Happiness is a feeling that every heart understands and respond to it. Many a times you won't be able to express this feeling, but we all need these happy moments. These days, when we are stuck in day-to-day life achieving daily duties and don't get time for US. Many of us deals with such a pressure that '
Break Tho Banta Hai Boss
'. Here, we just try and layout some reasons that why we should celebrate small moments and add spark to monotonous routine. Specifically, these days when most of us are doing work from home. So, let's read below point and understand that why small-small celebrations are needed.
1. Don't wait for BIG Reason to Celebrate.
Have you planned for something BIF for you? and now waiting for so long to complete it then my friend you are giving punishment to yourself. You know big things takes time and if you are aiming big then you need to invest energy, time and yourself into it and there will be a time when you'll feel exhausted. So, my friend I would suggest break your big work into pieces and set small goals and achieve them one by one and celebrate every small success you been doing in that big work / project or life etc. This will rejuvenate you, make you feel good and happy and see you'll be ready to start with more enthusiasm and energy.
 

2. It allows us to see though people.


Living in social environment gives you some responsibility to fulfill. Means, you should take care of others too who cares for you and love you. Come out of your zone and spend some time with family and friends, trust me this will help you. Sit with them or take a walk and see that only your presence with them can change their life or who knows you can solve their puzzle or may be yours. By this you'll also allow other individuals to see real you and may be they'll be able to correct wrong perceptions they were having about you till that day and this will be a new beginning for new relationship.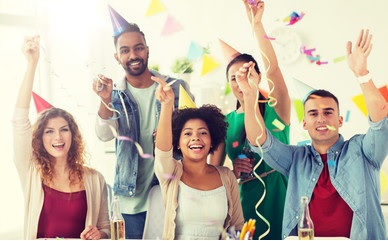 3. Relationship building.
Celebrations also play vital role when it comes to making relations or social networking. So, take it in this manner that meeting for work will also not work always people might find you selfish. Sometimes, you should meet on casually also. Like, have a small cake cutting at home, call people and know more about them. This will not only help you but others too to know more about each other's like or dislike. You can also plan small get-together which gives you a quick space to connect with people personally. These types of small celebrations fuel us with positivity. Corporate management use this as a tool
.
4. YOU are also important.
If you are living alone then also you should celebrate frequently. Staying alone doesn't mean that you cannot celebrate, of course you can. Book a small cake or make some good food for you and go on a video call with family, friends or loved ones or stuff like this. Take time for yourself and give that SPECIAL treatment to yourself too. Dress up good, look awesome and trust me this overall setup will take you to the next level of happiness and you'll feel more live, "Self-love Bhi Hona Chaiye Boss!".
If you agree, then what are you waiting for my friend. Go check out Bakeneto.com and get yourself a fresh cake, Brownies, Jar cakes, Pastries, Customized cakes, or Chocolava Cupcakes and many more in just 60 minutes in Noida, Ghaziabad, and Greater Noida. You can also send cake online to Noida from any part of the world via Bakeneto bakery. Bakeneto is the best class bakery shop covering NCR region and doing free home deliveries. They take corporate orders also and giving maximum discount also. Any individual or small websites can also do affiliate partnership with them under their Affiliate program. Get full information on plan just by calling customer care number given below.