Weddings are the most exciting and crucial time of one's life and when it comes to make it memorable a one should choose the flavourful and stylish cake. Here, Bakeneto leaves no stone unturned in delivering best-in-class wedding cakes. It is one of the best bakery in Noida and Ghaziabad. These wedding cakes are designed keeping in mind the cake preference/type and the flavour according to the bride and groom. We offer various kinds of magnificent wedding cakes that will enchant the couple as well as guests attending the wedding.
Classy Wedding Cakes :
Using premium quality cream and vanilla/sponge, the classy wedding cake leaves the guests mesmerised and the couple totally impressed. It is beautifully decorated with fondant giving you an experience for life. Order online at Bakeneto for best wedding cake delivery in Indirapuram.
Marriage Treat Cake :
Supreme quality cream and properly baked vanilla/chocolate sponge along with smashing fondant decoration give the cake wedding touch. The final look of the cake is just matchless. Bakeneto is the best bakery shop for wedding cakes in Ghaziabad. Order now.
Love Star Cake : 
This sensational cake is beautifully adorned with quality cream and fondant. At Bakeneto, we use only the best quality ingredients in the preparation of cakes. Using fresh fondant and soft vanilla/chocolate sponge, Love star cake will make your love very happy. Choose Bakeneto for online cake delivery in Noida.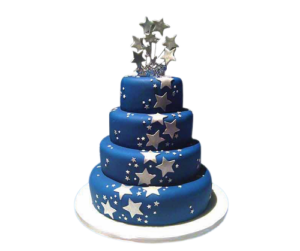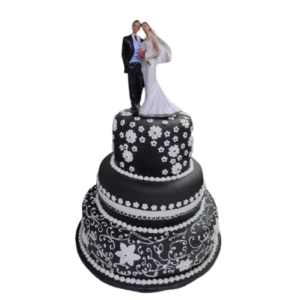 Star and Moon Cake : 
Capture the dreamy essence of Star and Moon Wedding Cake with Bakeneto as a wedding is but a beautiful dream waiting to enter reality. These cakes meet your expectations in the most promising way. As far as the ingredients go, the best quality of fondant and sponge is used in the preparation.
Since these cakes are hand-crafted, they carry with themselves the best of craftsmanship. The design is awe-inspiring and is so smashing that you will opt for Bakeneto even for future events. At Bakeneto, we execute lip-smacking cakes only after considering all necessary steps.
Proper care of hygiene is taken and all employees strictly follow all necessary procedures. The delivery reaches you on time in NO Delivery charges.
For our vegetarian customers, we have 100% vegetarian cake ONLY. Apart from wedding cakes, we also deal in cakes for various other occasions such as Birthday Cakes, Anniversary Cakes, Engagement Cakes, Girls Cakes, Boys Cakes, Cartoon Cakes, Pinata Cakes, Baby Cakes and more making it the best online cake delivery platform in Ghaziabad, Indirapuram and Noida.