IPL has started with its own worldwide craze. It is one of the sports loved and liked by millions of fans who keep waiting for those super excited and charged 40 days of cricket bash. However, we all Indians have different levels of passion and craziness when it comes to Cricket and our favourite Indian Premier League (IPL) which is all set to bring that thrill again. Give your special day a sporty lift with Cricket-Themed-IPL Cake. Surprise the fan of cricket inside you. Let's show Josh and cheer up our favourite IPL team. Bakeneto has introduced a series of photo print cakes in Chocolate, Pineapple, Butterscotch, and Coffee flavours to match the same passion and madness as you.
IPL T-20 fever is on again. Celebrate with your cricket lover friend with this unique cricket special cake by Bakeneto. You all would love this combo of IPL cricket theme cake and Chocolate cake. This cake can be customized as per your choice and theme which you can get printed on your cake. Let's celebrate the victory together with your friends and family and this super special IPL Cricket cake. Get the fastest fresh cake delivery in Noida, Ghaziabad, and Noida Extension by Bakeneto with FREE delivery through this entire IPL 2023 session as we are also celebrating with you. Order online now!
Feel the heat. Celebrate with your favourite cake.
Book IPL Theme Cake for all the teams by Bakeneto
Here at Bakeneto, we have cakes for all IPL teams, and we care about all the fans out there following the IPL league and pumping up their favourite teams from home or from the stadium. If you are at the stadium and want to surprise your loved one at home by sending yummy cakes, then you can choose Bakeneto as your online cake delivery service celebration partner. We would take care of your birthday event here and deliver cake, flowers, and Chocolate online to your place without hassle. Bakeneto has cake for all teams; Delhi Capital (DC), Kolkata Knight Riders (KKR), Chennai Super Kings (CSK), RCB Royal Challengers Bangalore (RCB), Gujarat Titans, Lucknow Super Giants, Rajasthan Royals Cake (RR), Mumbai Indians (MI), and Kings-XI-Punjab. You can add your favourite quote on your customized print cakes and will do it in just 1 hour for you.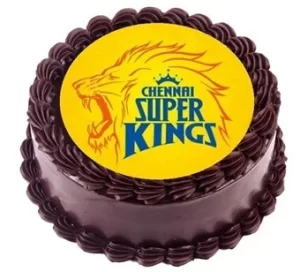 We have customized Photo poster cakes for the IPL teams, and you can also book Customized Cricket Theme Cake online by Bakeneto. Give your cake a new look and add a quote of your choice on it as we give live call support wherein you can customize your cake with us and get it delivered in just 1 hour of time in Noida, Indirapuram, Vaishali, Vasundhara, Gaur City- Noida Extension, Ashok Nagar- Delhi, and Greater Noida West. Bakeneto is running a special IPL session discount on all the IPL Theme Cakes you book online.
Cakes are starting at just INR. 799, with FREE home delivery from our own service team. Get your cake checked and give a sign-off to the delivery person post-satisfaction. We have had a 0.1% cake damage ratio in the last 2 years.
There are a few quick and awesome IPL theme cake designs which you can order online.
Don't miss out on your favourite match in its crucial mode! You keep cheering up the team and stick to your sofa and call Bakeneto to order cake online for you. Don't miss Birthday and Match as you and be free from the tension of choosing one of both. Now, you can enjoy IPL matches and book cake online from Bakeneto and leave the rest to Bakeneto.
Enjoy the best of both. You can choose the cake for any occasion from our wide range of cake varieties; be it a birthday, Anniversary, Engagement, Wedding, Baby Shower cake, Housewarming cake, etc. Ordering a cake online with Bakeneto Bakery is easy, you can call us directly or visit our website and book from there. We have a special IPL session offer running on all IPL theme cakes on our website. Get fresh, delicious cake at your doorsteps in just 45 minutes.
Watch out for all the IPL Team's Theme cakes on our website www.bakeneto.com. You can also call us and customize your own design for us. Send us on our WhatsApp number +91-7071634634.
Why Order Online from Bakeneto?
100% Fresh & Eggless Cake.
Premium quality with Super Hygiene.
Free Delivery and Mid-night Delivery options are available.
Eco-Friendly Packaging.
Offers on every cake, Every time you book.
---