Every parent knows the importance of their child's Mundan ceremony. It's a momentous occasion that marks the beginning of a new stage in their lives, and it deserves to be celebrated! A key component of this celebration is the cake, which has been an integral part of the tradition for centuries. In this blog, we'll explore why cake is an essential part of the Mundan ceremony and give tips for choosing the best Mundan cake.
Before going further firstly we must discuss the significance of the Mundan ceremony.             
Mundan, also known as Chudakarana, is a traditional Hindu ceremony that celebrates the first haircut of a child. It is a significant milestone in a child's life, and it is often accompanied by a family gathering and a feast. One of the key elements of any celebration is a cake, and for families who prefer eggless cakes, a Mundan eggless cake can be a great option. In this article, we'll explore the different aspects of a Mundan eggless cake and provide tips on how to choose the perfect one.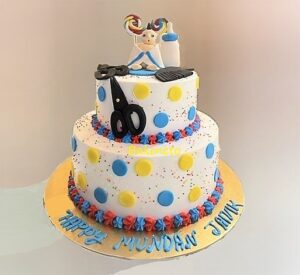 Why Do People in Mundan Only Prefer To Choose Eggless Cake?
A Mundan eggless cake is a cake that is made without eggs and is specially designed to celebrate the Mundan ceremony. It is often decorated with traditional Indian motifs, such as the Om symbol or a peacock feather, and can be personalized with the child's name or a special message. The cake can come in various flavours, such as chocolate, vanilla, or fruit, and can be frosted with buttercream or fondant.
There are many reasons why families may choose to have an eggless Mundan ceremony cake. One of the most common reasons is dietary restrictions. Many Hindus are vegetarian or vegan, and eggless cakes are a great option for those who prefer to avoid eggs in their diet. Additionally, eggless cakes can be a great way to accommodate guests who may have food allergies or sensitivities.
Tips For Choosing The Perfect Mundan Cake Design
When choosing a Mundan eggless cake, there are a few things to consider to ensure that you get the perfect one:
Flavour: Consider the flavour preferences of the child and the guests when selecting a cake flavour. Popular options include chocolate, vanilla, and fruit flavours like strawberry or raspberry.
Decorations: Choose decorations that reflect the significance of the Mundan ceremony. Traditional Indian motifs like the Om symbol, peacock feathers, and lotus flowers are popular choices.
Size: Consider the number of guests who will be attending the Mundan ceremony when selecting the size of the cake.
Delivery: Make sure to arrange for the delivery of the cake in advance to ensure that it arrives on time for the celebration.
A 2-Tier Mundan cake can be a perfect addition to any Mundan ceremony. By choosing the right flavour, design, size, and delivery options, families can ensure their Mundan cake is a memorable and delicious part of their celebration. Bakeneto is always here to help you while choosing the best Mundan Cake Design. For more details about designing Mundan Cake, you can visit our website.