Every Aren't you a football lover? If answer is yes! Then bakeneto has supercool customized Soccer cake or Football theme cake for you or your loved ones. We have one Ronaldo Theme Cake as Cristiano is a global icon and one of the most popular football players. With a career spanning over two decades, he has won numerous accolades and captured the hearts of millions of fans worldwide. It is no surprise that many people look up to him and want to celebrate his achievements in various ways, including by creating Ronaldo-themed cakes.
A Ronaldo theme cake can take many forms, from a simple cake with a Ronaldo figurine on top to a more elaborate design that incorporates elements of his career and personality. The key to creating a great Ronaldo theme cake is to capture his essence and create a design that reflects his passion for football and his unique personality.
Ronaldo cake designs are a great way to pay tribute to this legendary footballer. The key to creating an outstanding Ronaldo cake is to capture his personality, passion for football, and his unique style. Here are some ideas to inspire you when creating a Ronaldo cake design.
A football-themed cake is a perfect way to celebrate Ronaldo's love for the sport. You can make a cake that looks like a football pitch with Cristiano's team colors or his national team colors.
Ronaldo is also known for his unique sense of style. A cake that reflects his fashion style would be a great way to honor him.
Ronaldo is one of the most decorated footballers of all time, having won numerous trophies, including the UEFA Champions League, Serie A, and La Liga. Creating a cake that depicts Ronaldo with his trophies would be a perfect way to celebrate his career achievements.
Another way to create a Ronaldo cake is to make one that features sports equipment that he uses. For example, you could make a cake that looks like a soccer ball with Ronaldo's name on it or a cake that has Ronaldo's signature Nike football boots on it.
When it comes to the flavor of the cake, you could choose a flavor that reflects Ronaldo's heritage. Ronaldo is from Portugal, so a cake with a traditional Portuguese flavor, such as a custard tart or a Pastel de Nata, would be a great choice.
Wrapping Up
In conclusion, creating a Football Theme cake is an excellent way to celebrate the career of one of the most celebrated football players in history. The key to creating an outstanding cake is to capture his personality, passion for football, and unique style.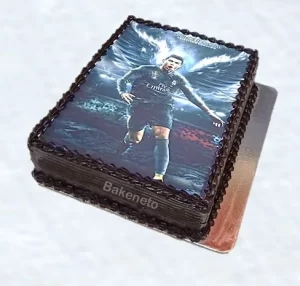 Whether you choose a football-themed cake or a cake that replicates his fashion style or trophies, a Ronaldo cake is sure to be a hit with any football fan.
Ronaldo themed cakes are available the same day from Bakeneto with the option of FREE delivery. It's very easy to send customized Football theme cakes online in Ghaziabad (Indirapuram, Vaishali, Vasundhara, Kaushambi, Vijay Nagar etc.)
        "Take your taste buds on a journey with a Ronaldo cake that's as delicious as it is beautiful!"
You can also request us to turn the same cake in 2-Tier Theme cake also. Our team will also guide you on right flavor, design, size, and delivery options, to convert your celebration in to a memorable event and a delicious treat altogther. Bakeneto is always here to help you while choosing the best Football Cake Design.
For more details about designing your own football or any Game theme Cake, you can visit our website https://bakeneto.com or call us at 7071634634 or write us as [email protected]